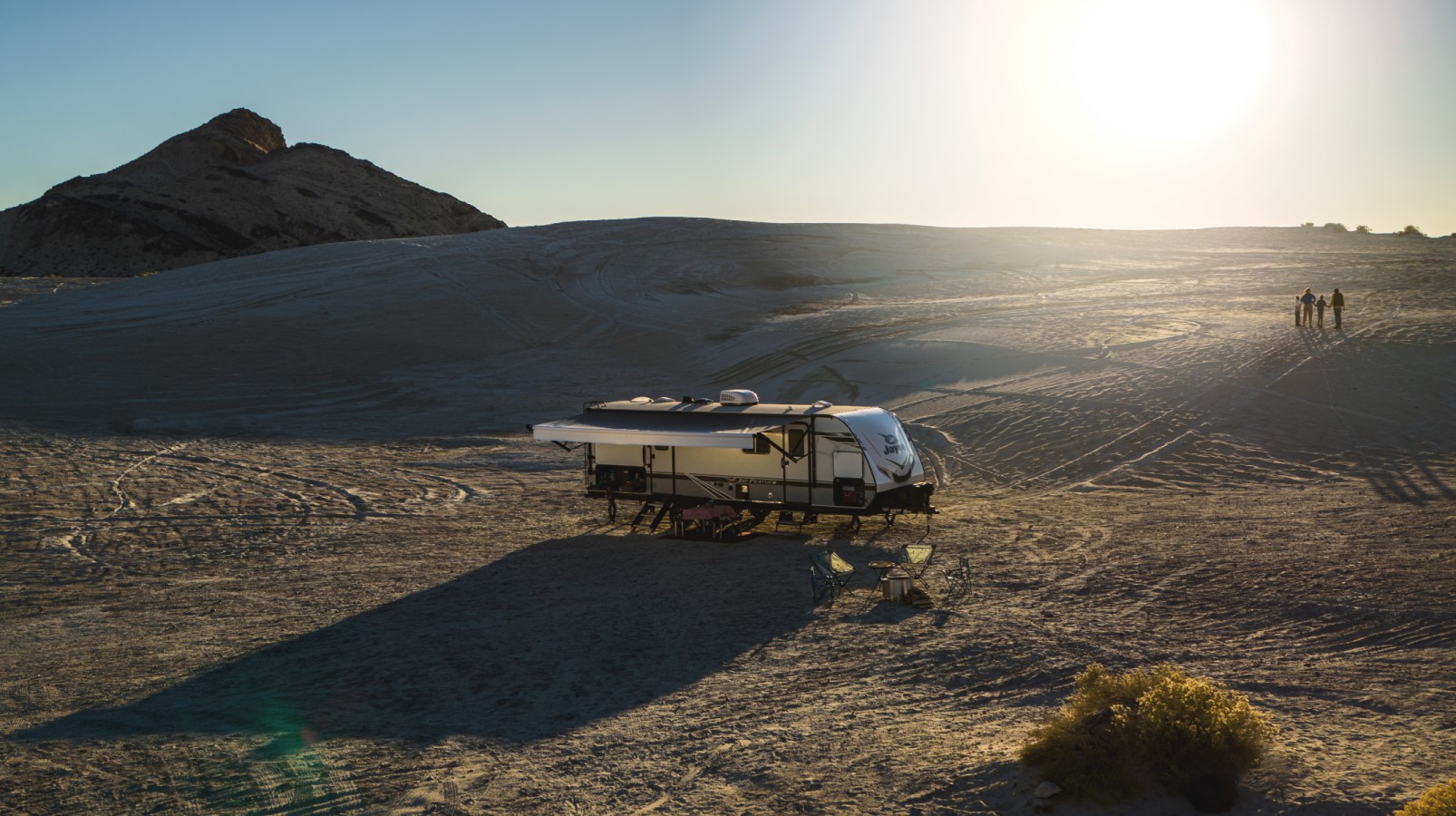 Travel trailers are the most popular types of RVs, given that they are less expensive than a motorhome or a fifth wheel, while still providing you with all of the amenities. They are offered in multiple configurations that can welcome a couple or a family. These widely varied models come in lengths ranging between 16- and 40- feet and are perfect for yearlong campers and seasonal campers alike. Whether you own a van, an SUV or a truck, we have a travel trailer model that is perfectly suited to your needs.
With our 8 branches, at Roulottes A.S. Lévesque, we have a wide inventory including a variety of both new and used models. Out new travel trailer selection offers models from renowned brands like Jayco, Grand Design, Keystone, Prime Time and Palomino, leaving you with the choice of features according to your budget!
If you are looking for a travel trailer for sale, you will quickly notice that the market is inundated with an incredible variety of new and used models, which can make it difficult for you to know which one is best suited to your needs. In fact, if you are purchasing your very first travel trailer, you will not only have to find a model that is perfect for your needs and your budget, but also one that your current vehicle can tow, especially if you are planning on travelling to several different places with it. Roulottes Lévesques, the biggest travel trailer retailer for over 55 years, tells you a bit more about the different available models, so as to help you make the best possible decision.
At Roulottes Lévesque, we offer a wide array of makes and models for new travel trailers for sale like: Avenger and Tracer by Prime Time, Transcend XPLOR, Imagine and Reflection by Grand Design, Cougar Half-Ton, Passport by Keystone, Jay Flight, Jay Feather, White Hawk and Eagle by Jayco, Ameri-Lite by Gulfstream or even Puma by Palomino. Don't forget we also hold a vast inventory of used travel trailers for sale! Although some of them can be towed by a sports utility vehicle –given their light weight-, the heavier and longer ones will require a truck. So, with its 16'6'' and 3,140 pounds, the Jayco Jay Flight SLX could be towed, for example, by a Toyota Highlander or another model of the same category, while you will need a Ford F series –or another truck of the same category- to tow other types of travel trailers.
Depending on the make and model of your travel trailer, it could offer one or several extensions, so as to maximize interior space, as well as bunkbeds, sofa beds and rooms with queen or king sized beds that will be perfect for family or friends.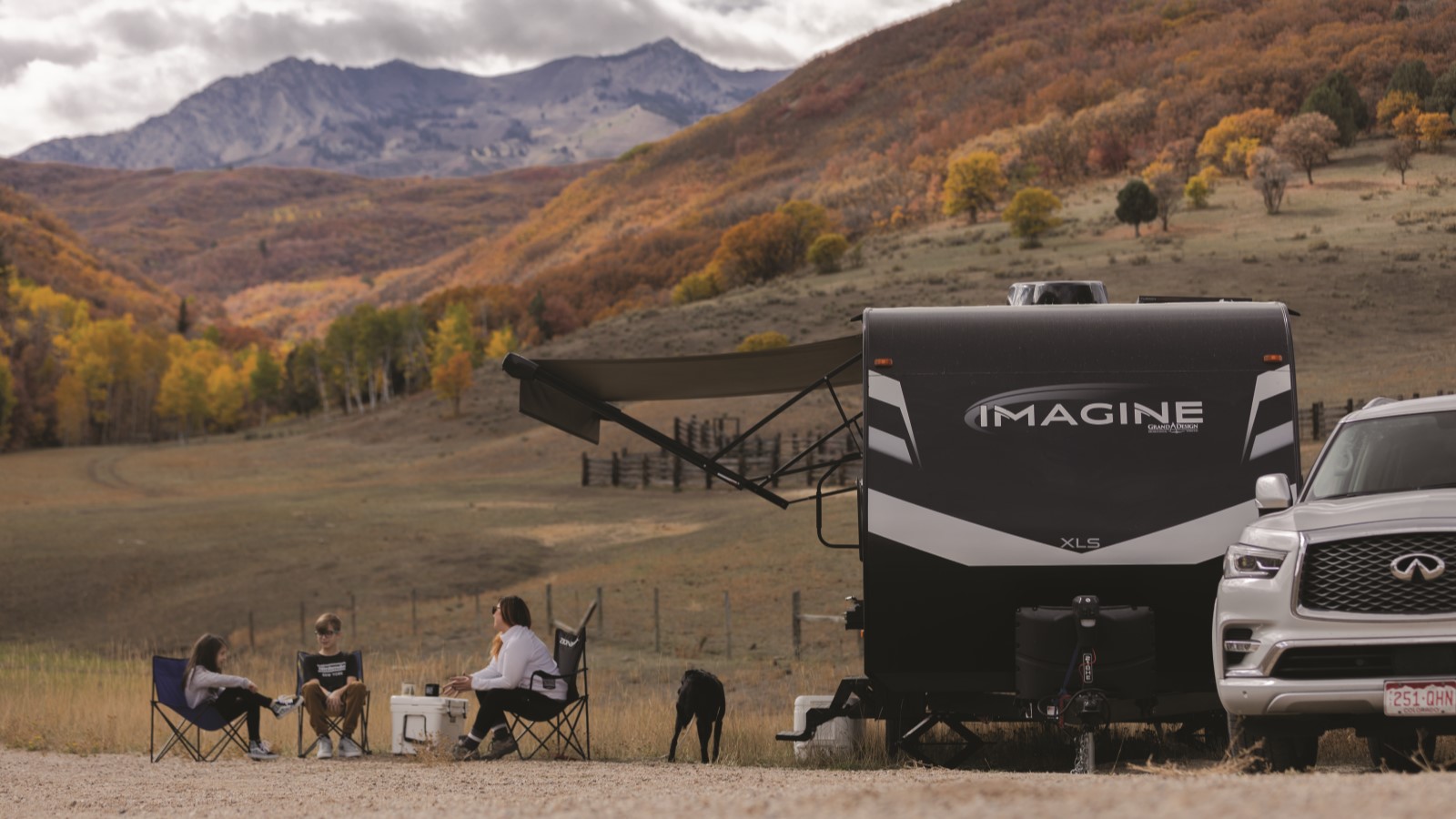 Just as its name indicates, a light travel trailer will have a significantly lighter weight than a conventional travel trailer, which will –in most cases- allow it to be towed by a utility vehicle, and even some midsize sedans. Increasingly popular due to their lower weight –which also limits fuel consumption on your vehicle- they still offer the same advantages and equipment as a standard travel trailer.
In fact, the light weight has nothing to do with the amount of equipment, but rather a difference in the materials that were used, like fiberglass for example. Aboard these trailers you will find features such as an equipped kitchen, a bathroom, bunkbeds, and several other things.
You will be able to travel light with light travel trailer models like the Jay Flight SLX by Jayco, the Avenger LT by Prime Time or the Puma Ultra Lite by Palomino. You will find several models perfectly suited to families and others ideal for couples, with weights under 4,000 pounds. Jayco also offers the Jay Feather Micro light travel trailers with walls made of laminated fiberglass and specially made for outdoor adventures!
Small travel trailers have the advantage of being more versatile, which will allow you to more easily fit into the different available camping spots. These trailers offer all of the necessary amenities for your stays, allowing you to travel comfortably and worry free!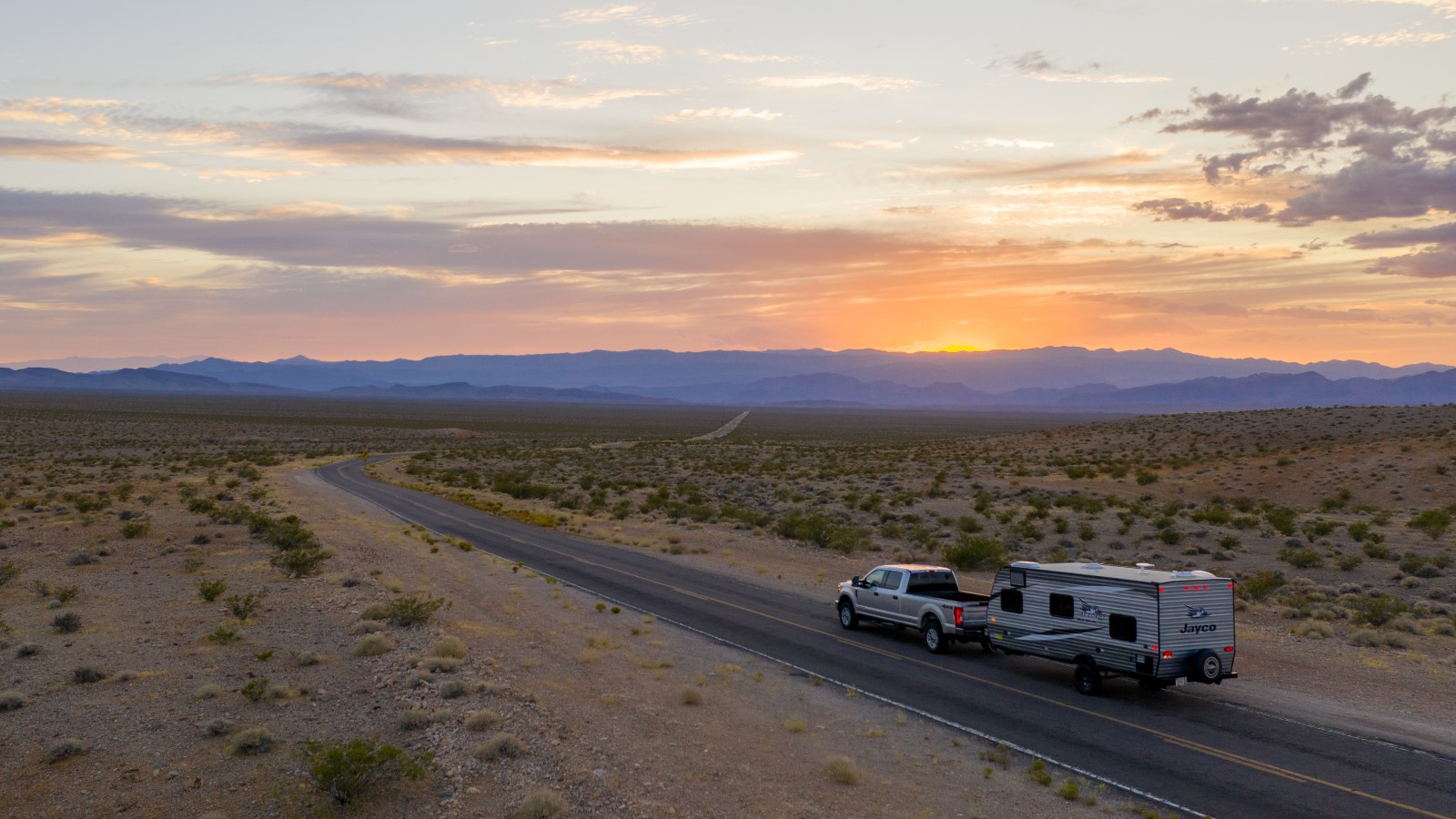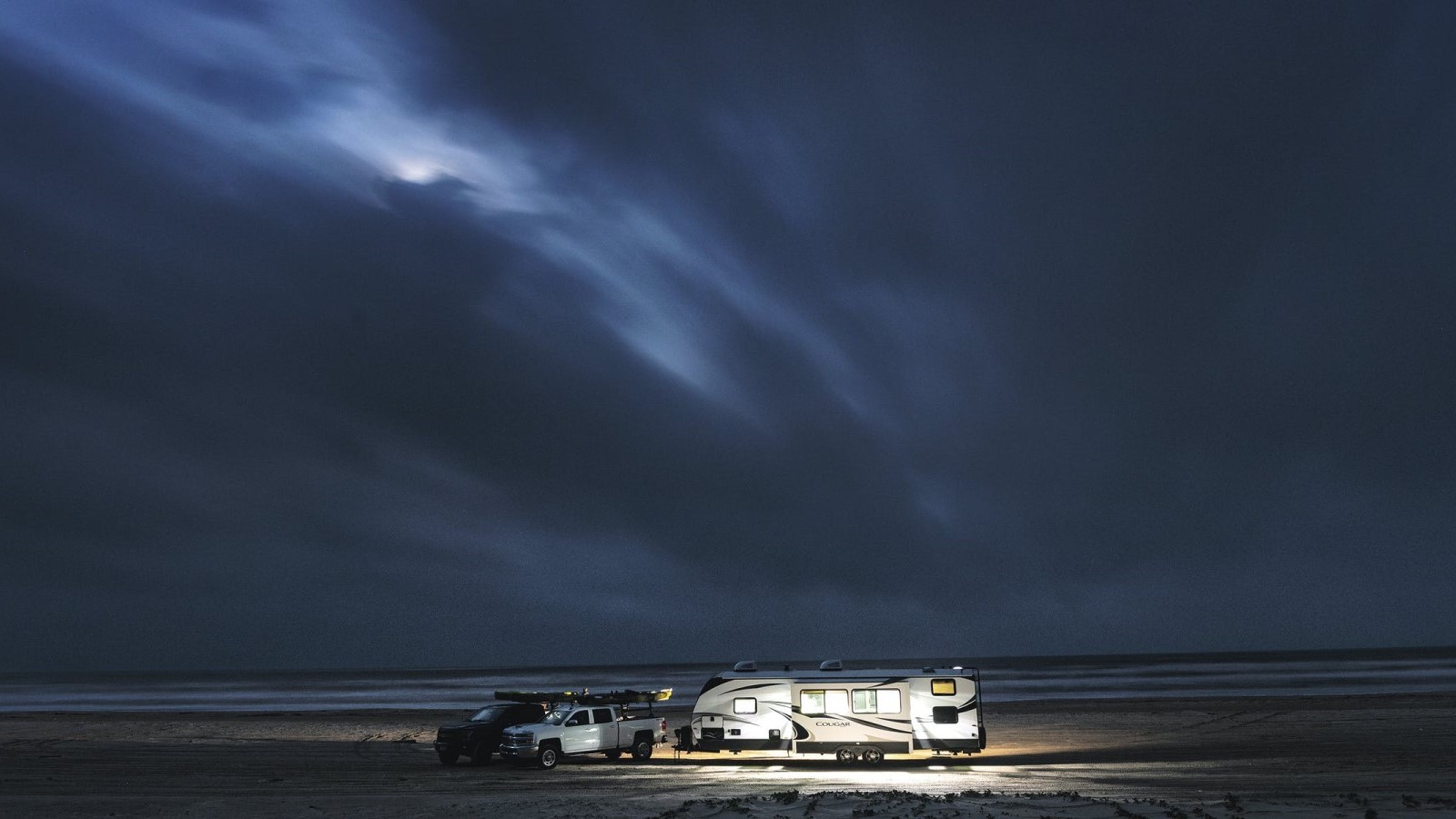 There is a wide array of choice for travel trailers for travelers who have a towing capacity of 4,000 pounds and more, and they are categorized according to manufacturing method.
Firstly, there are trailers with aluminum sheet paneling, amongst which you will find the following brands: Transcend XPLOR by Grand Design, Avenger by Prime Time, Jay Flight by Jayco, as well as Puma and Puma XLE Lite by Palomino.
There are also trailers with laminated fiberglass walls that also include several brands like Jay Feather and White Hawk by Jayco, Imagine and Imagine XLS by Grand Design, without forgetting the Keystone travel trailers like the Passport SL and Passport GT, as well as the Cougar Half-Ton by Keystone. The only thing left to do is to choose which one suits you best!
Finally, if you are looking for all of the luxury and space normally offered by fifth wheels, but in a more "classic" trailer style, then the Reflection trailers made by Grand Design or the Eagle HT and Eagle by Jayco will definitely be perfectly suited to your needs, of that we are sure!
These travel trailers are made with the very best materials and manufacturing methods for superior durability, without forgetting their refined style! They are fully equipped and offer spacious and complete interior configurations.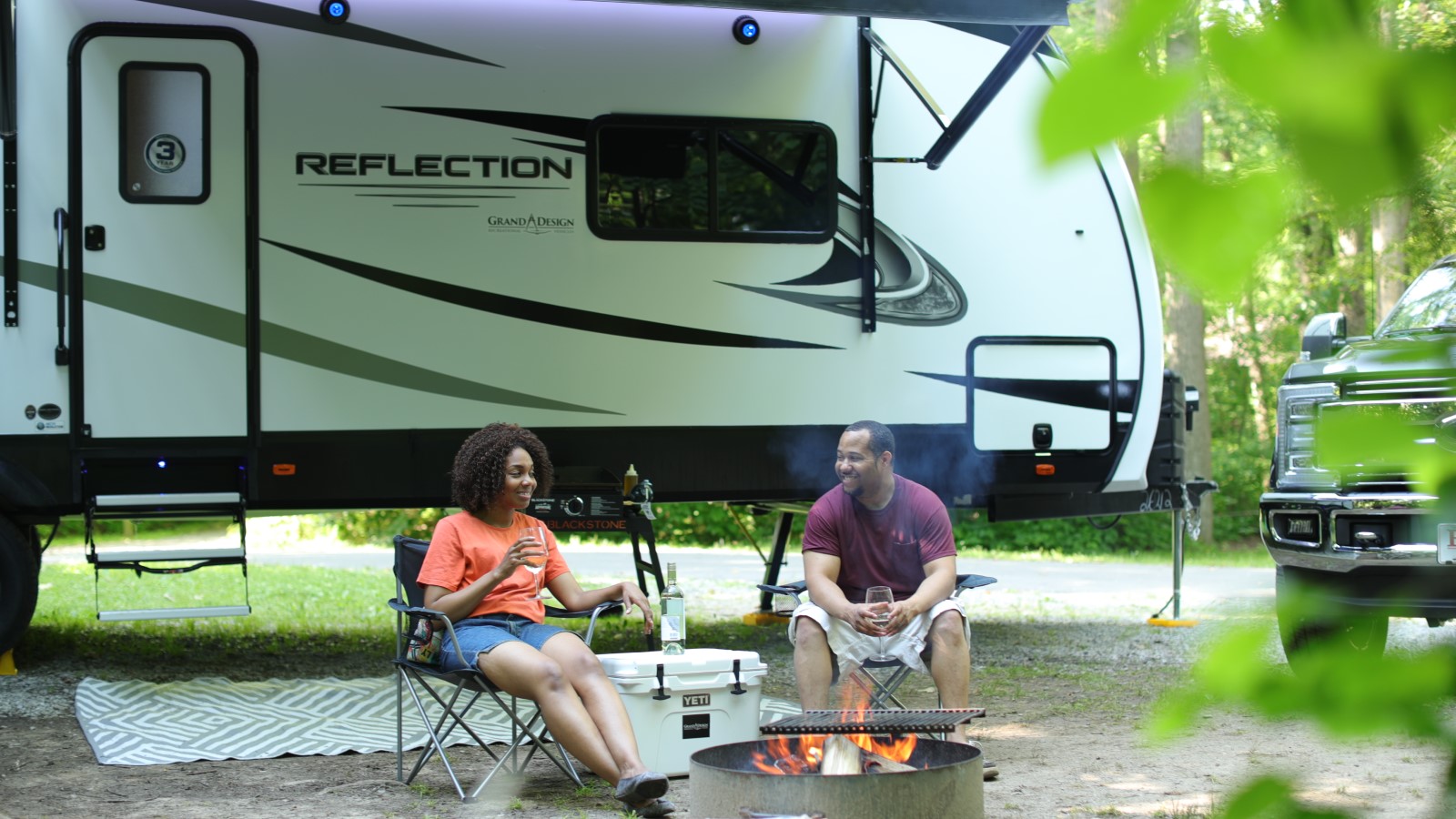 What are the available models?
Travel trailer, hybrid travel trailer, toy hauler travel trailer, fifth wheel, park trailer, light travel trailer… as you can see, there are several available models with sizes that generally vary between 16- and 40- feet. Some can be towed with a utility vehicle, others will require a truck. They can also welcome different numbers of passengers for sleeping. It is important to choose the model according to your needs!
Discover all of the possibilities available to you as well as the characteristics for each model by visiting the webpage related to the travel trailer brand you have your heart set on! If you have a truck and move around often, you might be interested in fifth wheel models that offer great stability and maneuverability on the roads! For campers who have a large family and who are limited in their towing capacity, then hybrid travel trailers with foldable beds are an excellent alternative. Finally, if you are an adventurer who wants to bring his all-terrain vehicle or motorcycle along, then take a look at our toy hauler travel trailer inventory!
Prime Time Avenger 16FQ LT

Manufacturer :

Prime Time

Manufacturer's suggested price

Regular Price

$33,215.21

Special Price

$31,999.00

Rabais de 1 216,21 $

Prime Time Avenger 16FQ LT

Manufacturer :

Prime Time

Succursale :

Trois-Rivières

Manufacturer's suggested price

Regular Price

$33,215.21

Special Price

$31,999.00

Rabais de 1 216,21 $

Grand Design Imagine 2670MK

Manufacturer :

Grand Design

Succursale :

Trois-Rivières

Manufacturer's suggested price

Regular Price

$80,606.83

Special Price

$69,999.00

Rabais de 10 607,83 $

Grand Design Imagine 2910BH

Manufacturer :

Grand Design

Manufacturer's suggested price

Regular Price

$77,923.81

Special Price

$69,999.00

Rabais de 7 924,81 $